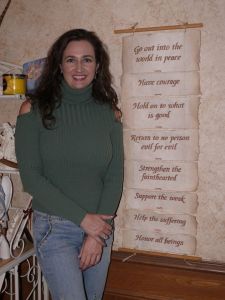 Do you want to be an employer that shows you care about your employees?
Do you want to be known as an employer of choice?
Do you want to control your health care costs?
Any size employer, from the smallest to the largest needs to address employee wellness and engagement.
We all know someone, whether it is ourselves, a family member, a friend, or a coworker, that has gone through a health issue while on the job.
Or maybe we know someone who has struggled with their weight and would feel better and be more engaged on the job if they had better knowledge and planning skills on how to eat nutritious food.   Maybe they would benefit from more energy and instruction on how to exercise.
Maybe you have employees who are sleep deprived and could use education on the dangers of being chronically tired.
Maybe financial wellness is an issue that your employees need coaching and support to live a better quality of life.
Or maybe you want to bring in chair massage to help your employees overall wellbeing.
Wellness and wellbeing have many different aspects and layers.  I can help your team grown stronger by helping you to identify your areas of need and to build a wellness program to meet your business and individual needs.
Executive Coaching
Wellness days
Training your staff wellness team
Ongoing wellness programming
Lunch & Learns
Retreats & workshops
Yoga classes
…and much more
contact Liz Jones today (715) 684-9297 [email protected] to set up a consultation.